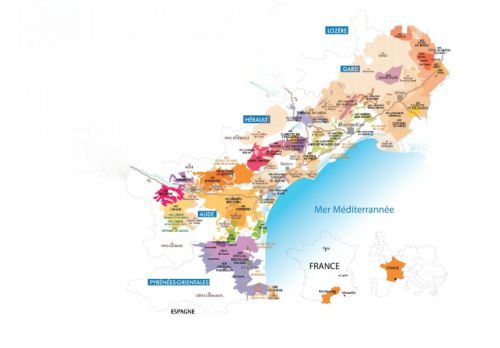 Our region
Located in the heart of the Mediterranean arc, "Languedoc Roussillon" is beautiful and varied. It has a sunny and mild climate as well as natural parks and dynamic cities which offer a pleasant lifestyle. The area takes advantage from its unique Mediterranean location.
The Languedoc-Roussillon area is characterized by its extreme variety and its rich quality of locations: the area offers more than 200 km of coast, a vast littoral plain from the "Rhône" to the "Pyrénées" with many historic cities, a renowned wine and olive tree culture, and mountains from the "Massif Central" in the north, to the "Pyrénées" in the south. With beautifully preserved countryside and a preserved littoral, Languedoc-Roussillon will amaze you with its cultural and historic wealth. The real estate market of Montpellier is particularly dynamic.
It is also an area rich in traditions and celebrations which take place throughout the year.
Traditional manifestations reveal the identity of this Occitan land, which combine legends, religion, folklore and fun. Some events such as Languedoc joust, bull-running, carnivals and music and arts festivals give charm to this unique region.
You will enjoy discovering the cultural and architectural heritage through the different areas:
Aude:
From northern invigorating cold winds to warm and humid sea breezes, "l'Aude" is well known to be the cicada and lark's country.
Come discover her historic past through Carcassonne's walled city, a medieval city registered as a UNESCO World Heritage Site. The fortress overhangs the austere landscape, while its fortified watchtowers tell their own story.
Admire the "Canal de la Robine" in the heart of "Narbonne" also classified as a UNESCO World Heritage Site. Narbonne, first city of "Aude" benefits from a natural conservation area and historic patrimony.
Enjoy the sea resort of "Port Leucate" which offers a wonderful way of life on the littoral separating "Leucate" estuary from Lyon's gulf.
Occitan independence and the Cathar religion are deeply entrenched into the very soul of the Aude, in its valleys, gorges and villages making "Aude" a charming land of contrasts, with snowy summits, pastoral lands of the "Pyrénées audoises", the scrubland of "Minerve", the ploughed hills of "Lauragais", the saltworks of shoreline ponds, and the beauty of "Corbières" and the "Canal du Midi" all help to create the diversity of Aude.
Gard:
The spectacular roman architectural will transport you over time with attractions such as Nîmes arena and the UNESCO World Heritage Site of the Pont du Gard which links Uzès to Nîmes. Admire mystical places, small villages in the heart of Provence, vineyards of "Côtes du Rhône", nature reserves and magnificent hills of the "Cévennes" offering a large variety of incredible landscapes.
Uzès will seduce you by its wonderfully preserved architecture making it a prestigious destination in the south of France. Its calm and serenity are contrasted with its joyous side thanks to its many cultural and summer festivals.
The Anduze bamboo gardens in the "Cévennes" is a unique and wonderfully exotic garden and merits a visit as much as the famous potteries of the city.
Finally, in the South of the Gard area is the famous fortified city of "Aigues-Mortes" and the natural area of "la Camargue" and its capital and coastal resort of "Saintes-Maries de la Mer".
Hérault:
From cathedrals builders to forward thinking architects, the "Hérault" area offers religious and civilian monuments. In both city and countryside, abbeys and cathedrals stand next to mansions and castles. In "Pézenas", Molière would have played in "Hôtel Alfonce". In Montpellier, at Comédie square Haussmann buildings stand next to the opera house. This vibrant university city is extremely popular with students and investors. Due to its climate, location and the opportunities that it offers it has become a true destination.
Hérault is also attracting many tech busnisses, particularly in Montpellier where the economy is so strong that ,any businesses choose to open here..
Agde city, nicknamed "Mediterranean Black Pearl" because of its basaltic stone monuments has a long history. It became one of the principal recreational harbours in the Mediterranean, and the first touristic seaside resort in Europe, next to the world-renowned "Cap d'Agde" with its beautiful coastline which attracts a high population of naturists! With its National nature reserve of Bagnas, Mont Saint-Loup and strolls along Canal du Midi … "Cap d'Agde" is extraordinary! With 300 sunny days and 14 kilometers of beaches, it is easy to see why so many people come here.
Also on the coast, "la Grande Motte" and "Palavas-les-Flots" are both Mediterranean seaside resorts which are both busy in summer and winter.
Sète is called the little Venice of Languedoc-Roussillon with her fishing port and seaport. The sea air of the city has inspired great writers, poets, singers such as Paul Valéry, Jean Vilar, Georges Brassens, as well as world-renowned artists.
Finally, "Hérault" is a vineyard land with famous wines such as : "Terrasses du Larzac", "Picpoul de Pinet", "Pic Saint Loup", and "Côtes du Roussillon"
Pyrénées Orientales:
320 sunny days per year: this is not a legend … Enjoy 40 kilometers of long sandy beaches, 20 kilometers of breathtaking coastal beauty, rocky creeks, fishing harbours and marinas such as Collioure which help create the identity of "Pyrénées Orientales".
You can appreciate Perpignan, which is a real mix between tradition and modernity and is called the capital of "Pyrénées Orientales". Benefiting from a Catalan influence, you can watch from there the "Pic du Canigou", the highest peak in this area. Further in the mountain chain, you will find Font-Romeu, the ski area "Les Angles" and finally the thermal resort of "Vernet les Bains".
Find a property in the Languedoc Roussillon area